BoothBay Harbor ME to Camden ME and return
8/31/00 - 9/1/00 Aboard "Sunny"
A big thanks to David Duggan who was my partner for this trip. His quick reflexes, sailing skills, and galley work contributed significantly to the trip. I have omitted photos of him enjoying the sail, solely to respect his privacy.
We left Boothbay Harbor at 5:50 A. M. after good-byes to Irene and Helen and arrived in Camden Harbor at 4:30 P. M., a 43.4 nautical mile trip [49.9 statue mile]. Average speed was 4.7 MPH mostly through 1/4 mile visibility fog and using a Honda 5 HP 4 cycle outboard. The engine required 3 gallons of fuel each direction or 16.6 MPG. During one of the breaks in the fog, the sun bathed Owlshead Light comforted us. Notice the fog in the right side of the photograph.
Owlshead Light Photo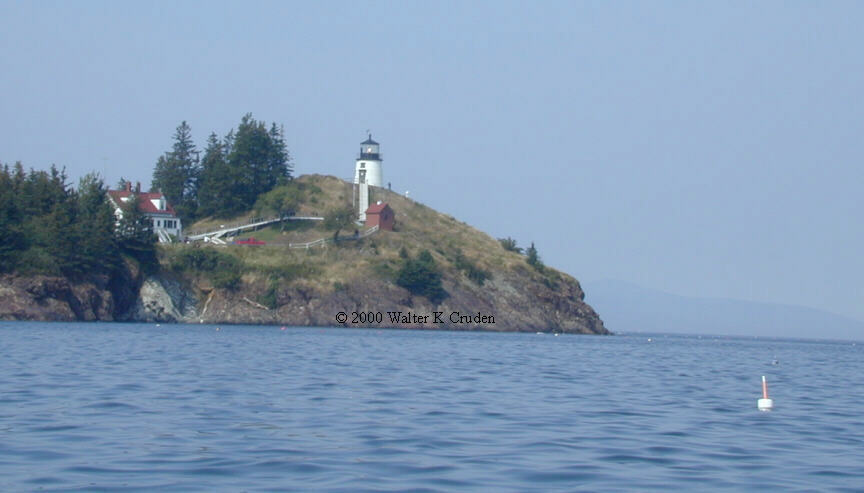 Owlshead Light Photo
Using GPS and a compass, each buoy was easy to find and we always knew distance and direction and where we were despite the fog. I mounted the radar reflector on the back stay near the boom as soon as we got underway and saw that the fog offshore was thicker than in harbor. For portions of the trip we were about 5 nautical miles offshore following a popular route of pleasure craft. Periodically, a lobster man plied common waters tending traps. As we passed each harbor or island, David and I would talk about its features. David has extensive experience in Maine and knows the coastal sites well. I read aloud from A Cruising Guide to the Maine Coast by Hank and Han Taft. In some cases, the entries explained the background supporting what David said. For example, David knew puffins could be seen on Eastern Egg Rock because a Boothbay Harbor tourist boat would go there during the season. The Guide explained who reestablished the colony and what time of the year puffins are present. Keeping watch in the fog, staying on course, and visiting in our imagination the nearby treasures as we passed quietly by sped our voyage.
I had made a mooring reservation at Wayfarer Marine and I tried to raise them on channel 9 then channel 16; there was no answer. Then a friendly radio operator suggested, "Sunny, try 71." Sounds of "This is Waferer Marine", saved us a trip to the fuel dock. They put us on #6 in the outer harbor, a white mooring buoy with #6 WMT painted on it. The many boats on moorings made finding empty #6 relatively easy.
The evening had actually started about two hours south of Camden when I used the cell phone to tell Irene where we were and ask if she and Helen and Sarah would like to drive up and join us for dinner. A second call confirmed they would be there about 5 P.M. The alternative destination, Tenants Harbor, is well short of Camden and none of us knew for sure, when we left, where we would spend the night. Everyone celebrated the trip, over dinner, harbor side at The Waterfront Restaurant on Bayview Street. Having had only four hours sleep, we headed back to Sunny from the dingy dock in the Zodiac to move water safe equipment to the cockpit from the cozy cabin and then bed down. I fell asleep minutes after we reboarded and awoke in the sunrise twilight. David broke out the gasoline camping stove and reheated my thermos of coffee. He doesn't drink coffee. As we watched the stove work, I poured two half full coffee cups of David's Cavit Pinot Grigio for us to start our day. We savored our surroundings. The town and harbor still slept as the sun peeked from the East.
Sunrise from Sunny
http://www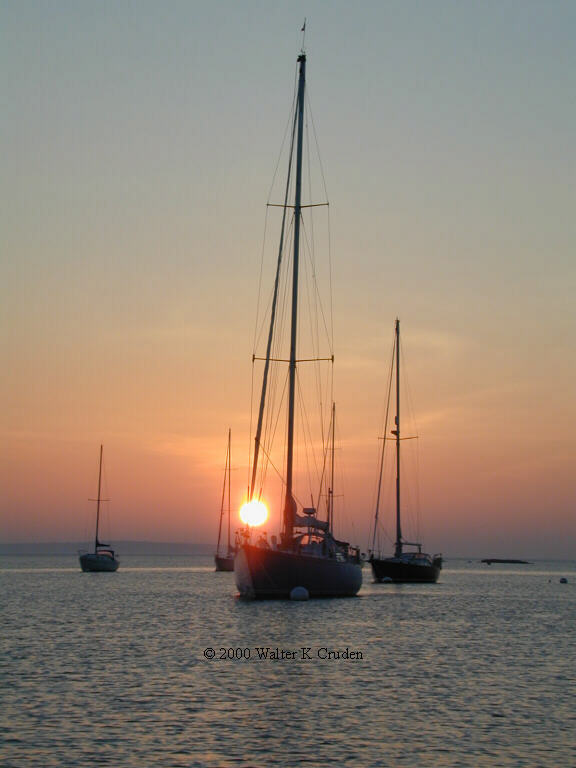 Sunrise from Sunny
David returned the now hot again coffee to the thermos freeing the stove for bacon and eggs. Minutes later we sat contemplating how lucky we were.
Hamming
After another Zodiac trip to town, highlighting the public rest rooms, we dropped the mooring and headed to sea at 7:50 A. M., a late start. The winds were light but favorable so we set sail and killed the outboard. Within the hour, the winds had shifted to our nose and strengthened. With the jib now down and engine running we commenced wide tacks with head-on seas and whitecaps. There was no reading from the guide as tending to the transit kept us both alert. Despite the 90 degree temperature ashore, we spent the day in a cold and breezy mist spotting other traffic and avoiding ledges during our wide sweeps to the Southwest. As we returned to home waters, traffic passed ever closer. A 6.2 Meter sailboat shares the waters with some "next boats, many times removed."
Big boat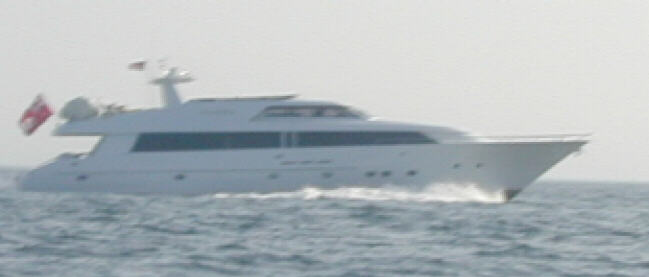 Large Boat
Yes, a radar reflector and careful watch is critical in the fog. That vessel is m-o-v-i-n-g. Now safely on Sunny's home mooring, we transferred the extra gear to the Boston Whaler Outrage 18 and headed to the cottage dock welcomed by Irene, Helen, Sarah, Victoria and George, hands raised in applause.
Next trip, maybe those imaginary visits to the places we passed may become reality. The Maine coast offers so much and our 6.2 Meter Boston Whaler Harpoon provided a wonderful magic carpet for the trip.